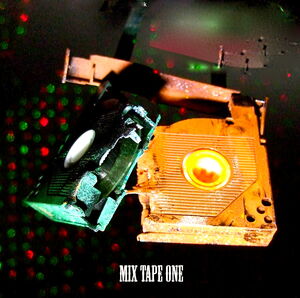 Super Sasae Alpha 2 Turbo is a full-lenth album by Sea Anemone See's An Enemy (SASAE) recorded at River City Studios in Sacremento, CA and released on October 31st 2007 on cassette and CDR, the album recieved mixed reviews and reached #13 on the "Global MySpace Chart", one position less than The Prodigy's "Always Outnumbered, Never Outgunned"
Less than 100 copies are know to exist and were sold at shows and via the bands website, due to being out of print it is concidered rare by fans, not even the band owns a copy.
Background
Edit
The album is quirky by nature with many songs featuring comedic influence lyrically, often breaking into dialogue sequences between Skylah and Sean , usually about certain aspects of the game that are weird and unexplainable often accompanied by argumental outbursts and frustration towards the aforementioned game.
The overall sound of the album forms a blitzkrieg of hardcore/crunk styles accompanied by NES styled electronics driven by heavy noise influences.
36 mixed and mastered songs
Comedic postcards of the band in beach attire
a poster of the SASAE t-shirt design
Custom Game cartridges with links to Skylah and Seans personal MySpace's and MSN's
Promotion stickers featuring a sea anemone fighting Team Rocket
3 Live videos
A few behind the scenes videos
Track listing
Edit
Rupee Dance
P.Diddy Kong!
Bumerman...
Duck Hunt
Video Games Ruined My Life....Good Thing I Still Got A Few Left
An Inspiration For Birth Control
e2
I'd Rather Have A Frontal Labotamy Than A Bottle Infront Of Me
Saved By The Bell!
High Fives, Not Tough Guys
A Not So Great Escape...
Forlorn
Life Is Like A Bicycle, To Keep Your Balance Just Keep Moving
Padawan
Laser Beam
The Gallery
Small-Town-Shake-Down!
Paper Hartz
Calculon, Fetch My Batteries...I Think I'm Dying
In Fear A Reverance
ZOOMZOMM.GIF
Car Dayz
PASSTHEFIST
Haunt
LB3K6K3GU3GO
Nebula X
Comixzone
Every Day I Die At Miyagi's
Zombies Ate My Nieghbour
Fast Friend Inc
Nova Scotiota
Words Whispered Through Prison Bars Often Lose Their Charm
Wyyrmz
We Can Transform
Heroics
The Sport Of Land AND Money
Personnell
Edit
Band
Sean Tyrrell - Lead vocals, Sequencer
Skylah Pendall - Vocals, Lyrics, Guitars, Bass, Drums, Programming, Synth, Banjo, Wind-chimes, Samples, Steel Pan, Piano, Harpsicord, Honkey Tonk, Keyboard, Lap Steel.
Ali Knowles - Guitar
Production
Skylah Pendall - Mixing, Production
Sean Tyrrell - Media
Ali Knowles - Mixing, Production, Engineering
Marcus Revinha - Mixing, Mastering, Engineering
Kady Holmes - Photography
James Jasso - Illustartions, Design
Ad blocker interference detected!
Wikia is a free-to-use site that makes money from advertising. We have a modified experience for viewers using ad blockers

Wikia is not accessible if you've made further modifications. Remove the custom ad blocker rule(s) and the page will load as expected.