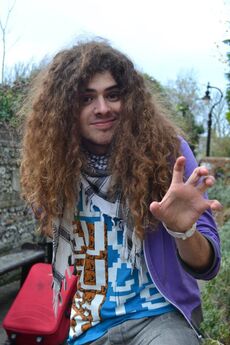 Skylah Elizibeth Pendall is the brains behind Go:Eskimo and previously the electronics and back-up vocalist of Sea Anemone See's An Enemy (SASAE).
Biography
Edit
Born in 1992, Skylah grew up in a predominantly hippie enviroment in the peaceful valleys of Ojai, California.
His first instrument was the saxaphone at age 8, however he quickly changed to guitar by age 10, setting it aside almost instantly.
That same year Skylah learnt to scream, apparently by mimicing "Freak On A Leash" by the Nu-metal band "KoRn", from then on Skylah fronted many bands due to being the only pupil in Junior high to be able to scream.
Playing and touring for 4 years intensivly Skylah broke off from any band and went solo, during this time briefly performing with Sea Anemone See's An Enemy (SASAE) but eventually leaving them too.
Finally Skylah formed Go:Eskimo, where he could take creative control and make the music he wanted to.
Instruments + Software
Edit
KORG MicroKORG
KORG Kaoss Pad II
KORG Electribe MX
Yamaha Motif XS
FL Studio 10: Producer edition
Skylah's Gameboy / The DXS
LSDJ
Other Projects
Edit
Sea Anemone See's An Enemy (A.K.A SASAE) - An Electronic Grind band.
The Game:Eskimo Show - A comedy web series where Skylah reviews games from his past, often making skits related to the video game.
Ex-bands - A list of bands Skylah has been a part of