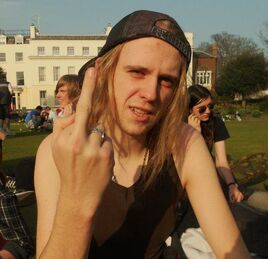 Sean "Sharkboy" Tyyrell is the creator of
Super Awsum Clothing! (SA!)
and also the founder of
Sea Anemone See's An Enemy (SASAE)
.
Sean is a predominantly a hardcore screamer but also has many Ska/Punk influences
Biography
Edit
Born in 1991 Sean grew up in Sydney Australia where he joined the surfer crowd at a young age, at age 9 his parents moved to the UK for business reasons where he lived until late in 2004 finally moving to Ojai, California.
Attending El Camino High he met Skylah Pendall and formed Sea Anemone See's An Enemy (SASAE).
In his spare time Sean loves to surf, write music, dive, mountaineer and free-climb, at one point being the youngest member of the International Federation of Sport Climbing.
Sean now lives in Ojai, California and sometimes Miami, Florida where he runs his own clothing company and often helps Skylah with his YouTube videos, he also helps up and coming bands with screaming and singing lessons.