Sea Anemone See's An Enemy (Often abbreviated to SASAE) is an Experimental Nerdcore two-piece from Ojai, California.
The duo( and later trio) were known for their bizarre and chaotic apparoach to performing, insisting "Anti-Stage" motifs and often got thrown out their own shows, however they would continue to play outside to fans at a near by vicinity.
The band was formed at a Starbucks in 2006/2007 and has been on a hiatus since late 2009.
Despite only having a year to write the band has a discography of over 40 unique songs.
Beginnings (2006-2007)
Edit
Skylah Pendall and Sean Tyrrell attended the same school and instantly clicked upon meeting, Skylah had been meaning to set up a band for a while and learning that Sean possessed (As Skylah described) "The best scream I have ever heard" the duo decided to become one.
After releasing two EP's independantly the duo decided that they needed to find a guitarist, mid 2007 they aquired Ali Knowlez which gave the band a much more defined and heavier sound.
Style Change And Hiatus (2008-2009)
Edit
SASAE started out as a "Pokécore" band, planning on releasing various songs referencing the popular Pokémon series, however they later decided to do many other video game songs coining themselves as "Nerdcore".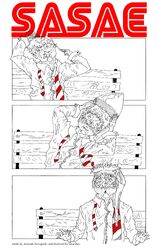 For unknown reasons the band stopped playing shows and websites were shut down. There still exists an unofficially run facebook page but not the offical one, the band have stated that they're still friends, Skylah is now operating under the alias
Go:Eskimo
, Sean continues to run his clothing company
Super Awsum Clothing! (SA!)
and Ali has since moved to San Fransisco where he is studying Music Technology and running his weilding business
The Little Iron
Band Members
Edit
Sean "Sharkboy" Tyrrell - Lead vocals, Sequencer (2006-2009)
Skylah "Lionboy" Pendall - Vocals, Lyrics, Guitars, Bass, Drums, Programming, Synth, Banjo, Wind-chimes, Samples, Steel Pan, Piano, Harpsicord, Honkey Tonk, Keyboard, Lap Steel. (2006-2009)
Ali "Anemoneboy" Knowlez - Guitar, Vocals (2007-2009)
Unfinished Releases
Edit
After the success of SSA2T SASAE began working on a follow up feature-length, releasing demos such as "Zubats Cave", "Gary Oak", "MiltankPrimeSteak.WAV" and "Lavander Frown".
In 2012 Sean changed the name of his clothing company to SASAE but quickly changed it again to SA!
In 2012 Skylah posted another joke song on his SoundCloud which said "Go:Eskimo Feat. SASAE" This suggests that Sean might be running SASAE alone much like Skylah run's Go:Eskimo.
There are a number of songs and demos that were only released exclusivly via the bands MySpace and website respectivly.
External Links
Edit