Ali Knowlez 
was born in Glendale, California in 1991, Ali loved his mother and hated school and found solace in playing guitar, welding and mixing/mastering tracks for local bands.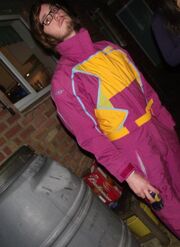 Not much is known about Ali other than he started playing guitar for Sea Anemone see's An Enemy (SASAE) during the SSA2T phase and that he now owns a weilding service.
Fender Strar
Woodson PA
Fender Mustang
Fender Stratocaster
Woodstock Stratocaster
Ad blocker interference detected!
Wikia is a free-to-use site that makes money from advertising. We have a modified experience for viewers using ad blockers

Wikia is not accessible if you've made further modifications. Remove the custom ad blocker rule(s) and the page will load as expected.